Training the Next Generation of Hair Braiding Entrepreneurs™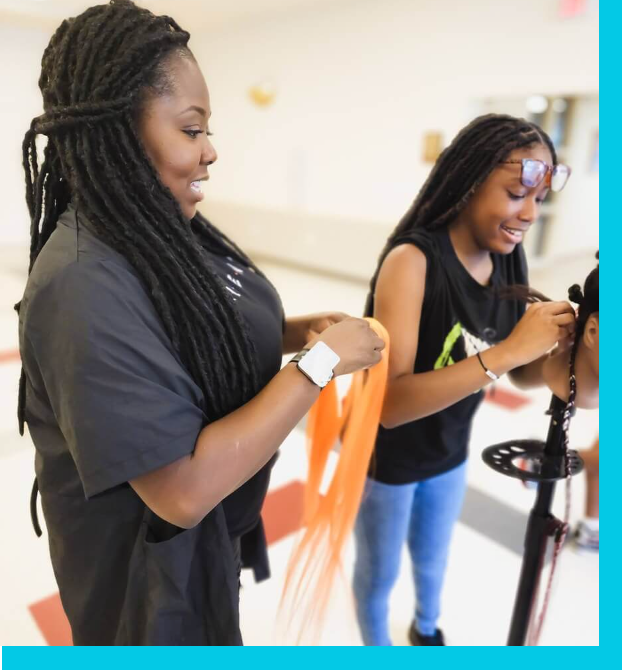 If you can BRAID.... You can start a BUSINESS 
Youth Braid and Business Academy is an enrichment program that provides hair braiding and entrepreneurship training to youth ages 10-18. Our fun, hands-on program is great for public schools, private schools, home school, churches, parks and recreation, government agencies and more. Our program can be implemented during or after school, as well as during spring and summer breaks.
OUR CLIENTS
Schools

We partner with schools and teachers to provide expanding learning opportunities. Available during & afterschool as well as spring and summer break.

Community

Help us build confident future leaders through the art of hair braiding.

Government

Our enrichment program gives our youth a valuable skill that increases independence and self-sufficiency.

Parents

Our program will equip your child with essential life skills and help them build confidence, love, and appreciation for the natural hair.
According to the After School Alliance
Afterschool programs in Virginia keep kids safe, inspire learning, and give working parents peace of mind. Kids discover who they are and what they love to do, make smart choices, and avoid risky behaviors.
Here's What Our Previous Clients Have To Say

Fabulous! Our youth learned so much from you, Rossie. Even the parents are bragging about how much their children enjoyed your class. One of the boys is now braiding his three younger sisters' hair at home! Talk about combating inflation -- your class was a lifesaver to this mom and her children!

Kynnedi attended the Youth Braid and Business Academy and look how she has blessed her mother tremendously! Y'all just don't know. When I stopped my hair...I stopped doing my girls hair too. Ya girl was tired! My girl Kynn is ready to get her coins... and I paid her for her services. Thanks Rossie! for having a great vision and teaching my baby how to perfect her craft. We'll be back!!! She's the best braider everrrrrrrr!!!

Great instructor of teen classes - and this with 10 youth with all degrees of expertise - mainly beginners! Thank you, Rossie!!!