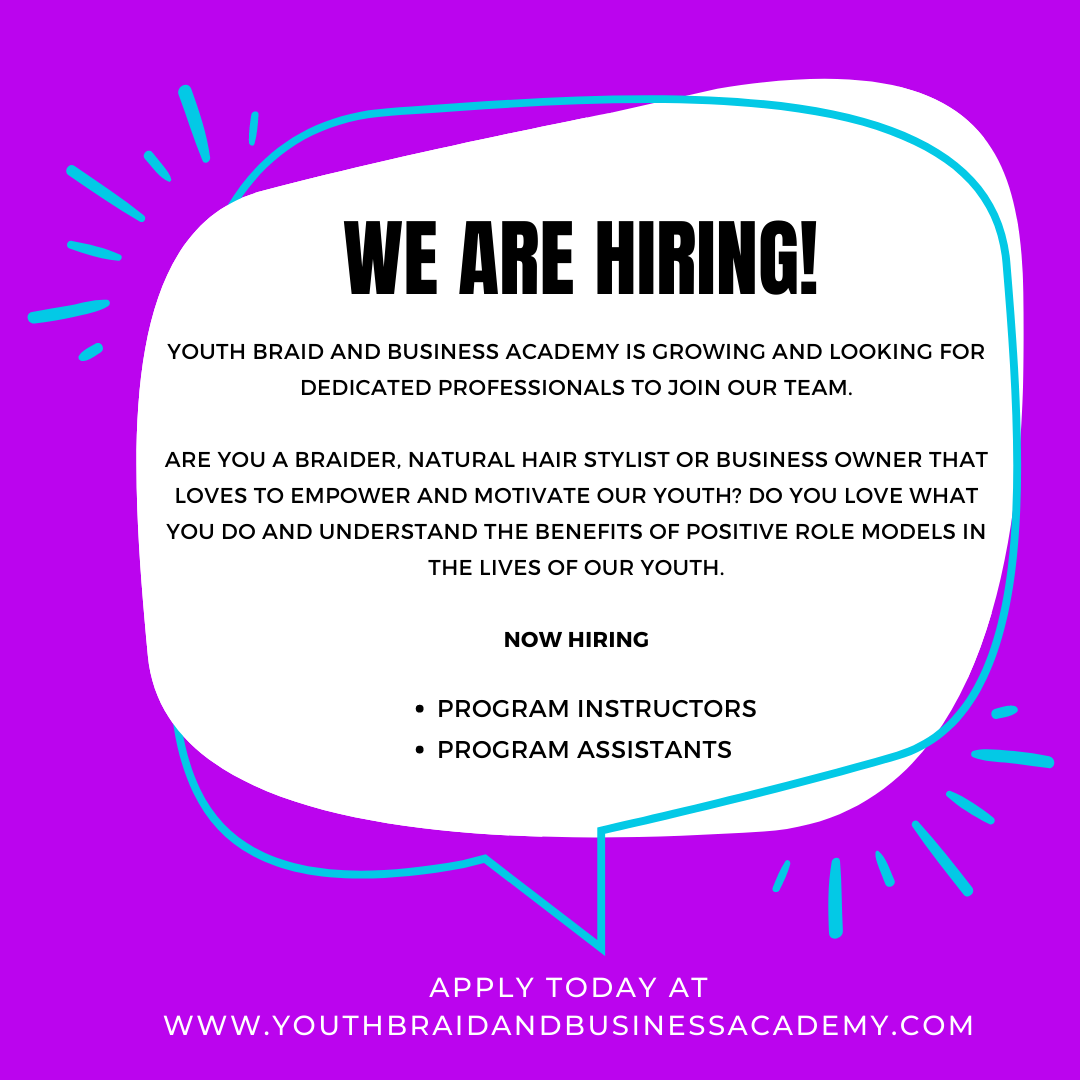 Join our Team
Youth Braid and Business Academy is a community of passionate individuals dedicated to empowering youth through hair braiding and entrepreneurship education. As we continue to expand our reach and impact, we're seeking talented and enthusiastic individuals to join our team and help shape the lives of youth in our community.
Apply Today!
Open Positions
Program Assistants: We're looking for reliable and youth-oriented individuals to join us as program assistants. As a program assistant, you'll play a vital role in supporting our instructors and ensuring the smooth operation of our classes. Your responsibilities may include assisting with class setup, organizing materials, supervising students, and providing general support to create a positive and engaging learning environment.
 Instructors: We're seeking experienced beauty professionals and business owners to join us as instructors. As an instructor, you'll have the opportunity to share your expertise and inspire the next generation of entrepreneurs. You'll lead engaging and interactive classes, teaching both hair braiding techniques and essential entrepreneurial skills. We value individuals who are passionate about education, have excellent communication skills, and are dedicated to empowering the youth.
 Guest Speakers: Are you a stylist or business owner with a story to tell? We're looking for guest speakers who can provide valuable insights and share their professional journey with our students. As a guest speaker, you'll have the opportunity to inspire and motivate our youth, showcasing real-world experiences and offering guidance on the path to success. We value individuals who are approachable, relatable, and can connect with our students on a personal level.
Why Join our Team?
 Make a Difference: Joining our team means making a positive impact on the lives of youth in our community. You'll have the opportunity to mentor and guide young individuals, equipping them with valuable skills and empowering them to pursue their dreams. 
We foster a collaborative and supportive work environment. You'll have the chance to work alongside a dedicated team of professionals who are passionate about youth education and making a difference in the community.
We believe in continuous growth and development, both for our students and our team members. Working with us offers opportunities for professional development, learning from experienced educators, and expanding your skill set in teaching, mentoring, and entrepreneurship.
Working with youth is a rewarding experience in itself. Seeing the transformation and growth in our students firsthand is incredibly fulfilling, and you'll have the satisfaction of knowing that you've played a role in shaping their future.
We're looking for dependable, reliable, and friendly individuals who are passionate about pouring into the lives of our students. If you possess these qualities and are ready to make a difference, we'd love to hear from you.
To apply for an open position, please submit an application by clicking the link below.
Join us in empowering the youth and Training the Next Generation of Hair Braiding Entrepreneurs™. Together, we can create a brighter future for the next generation.